A summery dress we love to bits
Posted by Georgie Falloon - Redwood Clothing Creator on 14th Jan 2022
BRUNCH, LUNCH, BEACH and BBQ...WORN TO THEM ALL
We've fallen in love with this unique and feminine summery dress by NZ brand Style X Lab. It's been on lunch dates, barefoot beach days and several summer evening BBQ's. Such a pure summery style with an off the shoulder design, slouchy pin-tuck sleeve and hidden pockets at the side. Most of all we love the shoulder frill top line you can wear up on your shoulder or down with both shoulders showing. The casually cool linen feels wonderful against your skin and the fabric and style is plain enough you can pair it with different shoes and accessories to change the look for any occasion. Flat blingy sandals, summery sneakers, chunky sandals, big earrings, over togs, barefoot, sunhats, sunglasses and scarves – anything at all. A super comfortable loose-fitting dress in natural linen that just feels so cool on a hot day.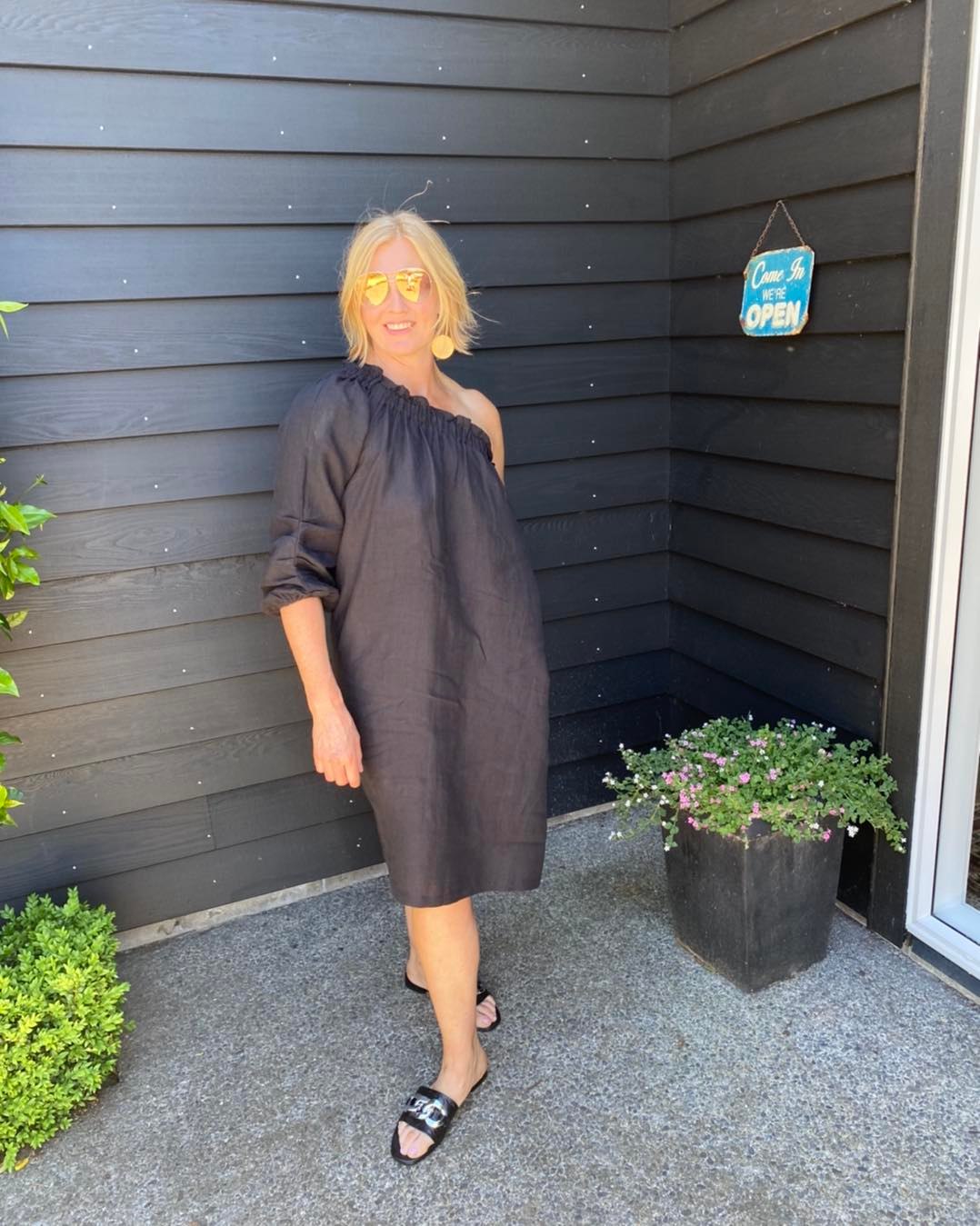 THAT FABULOUS FRILL is so well designed and made, it really works. The band is nice and wide and the elastic is thick which means it has brilliant hold and stays where you want it to stay. You can confidently choose to pull the sleeve up and over your shoulder or push it down to the side and have both shoulders showing and you wont spend all day hitching or pushing because it does actually stay there! The frill also cleverly conceals any tighter bits. It makes the dress look so soft and feminine no matter how you choose to wear it.
Have you spotted those gorgeous sandals Georgie is wearing too? Willow Shoes have more coming soon in size 42-45 in Black Croc with either silver or a gold chain. Find out how to order a pair by clicking the link below.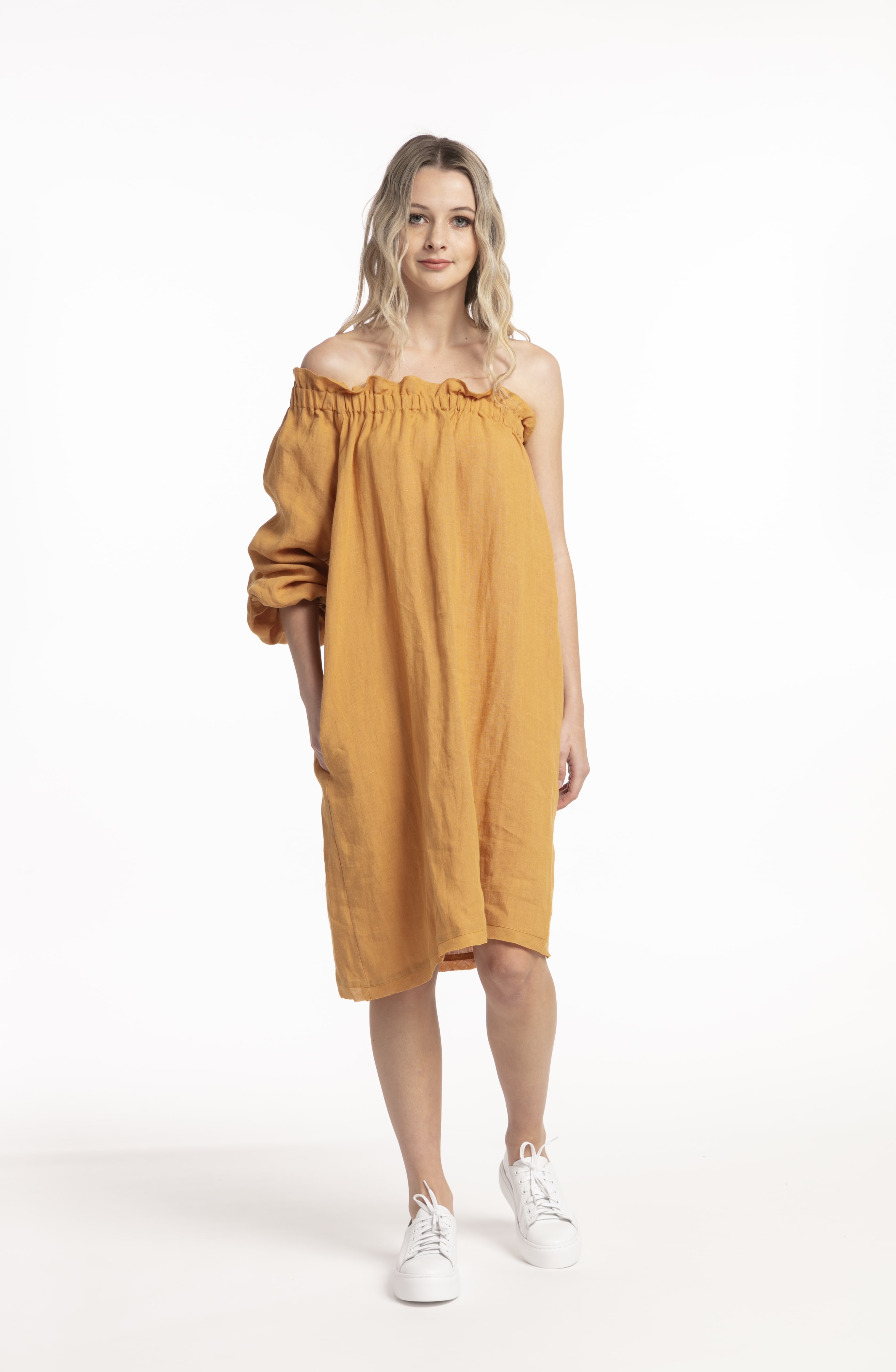 BRA OR NO BRA? this is the big question right? And I'll admit we were wondering the same at first but can confidently confirm it isn't anything to worry about. It's actually a great dress for going bra free if you're comfortable with that, because the linen is thicker and not clingy and nor is it see through. But if you're not so keen on bra free, a firm fitting boob tube, a strapless bra or even a nice pair of togs can do the trick and looks great.
Some women also tell us they prefer not to have their arms out and so an option is to pop on a light plain T-shirt and wear this pretty dress over top. The frill and position of the top will look great either over a contrasting white T or even a matching one in Black for the Black dress is a great idea.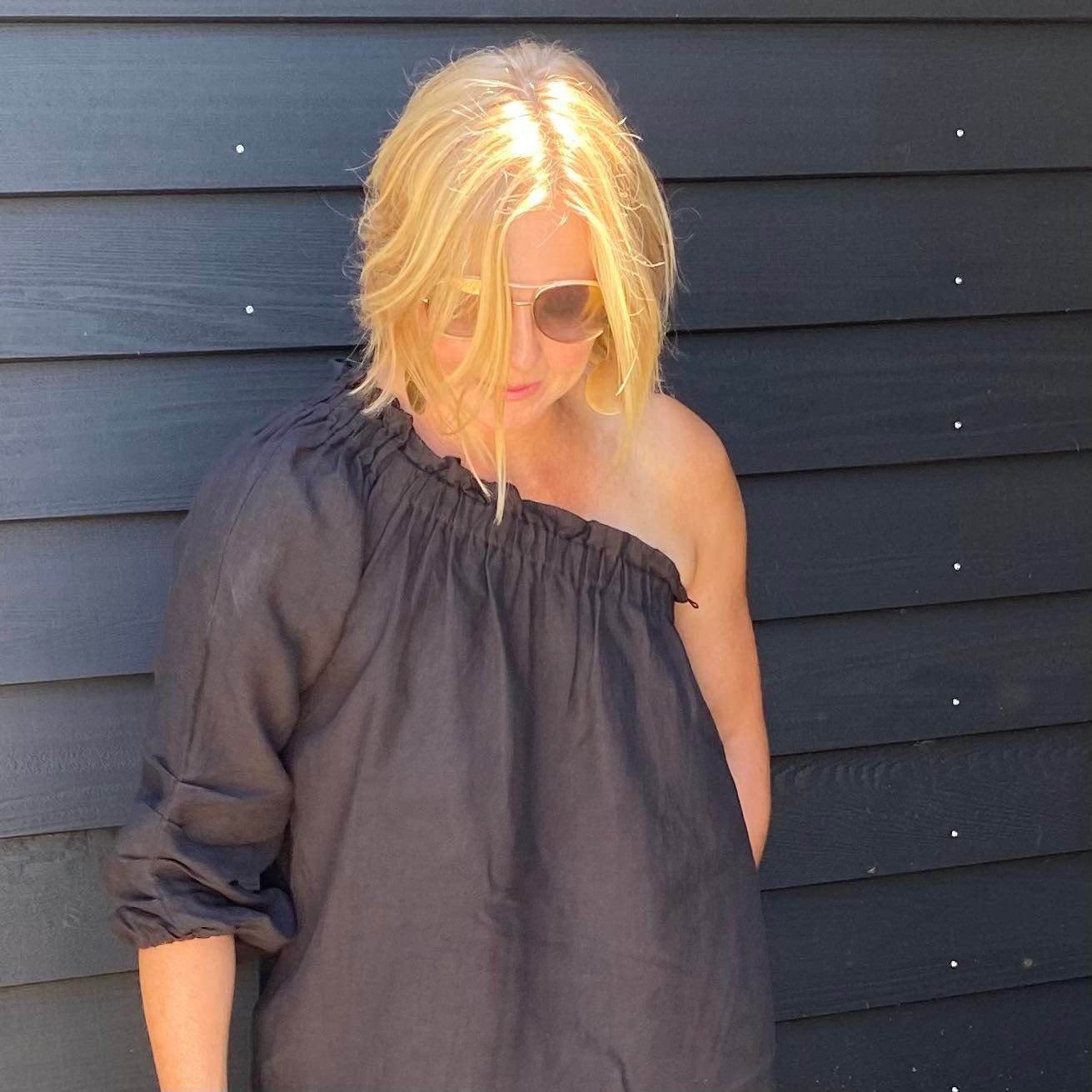 A LOVE of LINEN This 100% natural fabric can sometimes get a bad wrap with its reputation for creasing. But this heavier linen is a little different and won't have you looking unkempt. Very fine linens do end up with sharp creases but this thicker type of linen doesn't do that. It has a wonderful drape and only soft crinkles appear in a way that adds a casual character but doesn't look like you slept in your dress! This thick linen drapes in a flattering way and it's not see-through. Ironing a beautiful linen fabric can fill your senses too - the fresh fragrance of a hot iron on crisp linen reminds me of my mum and anyone with OCD tendencies will love admiring their skill at the end! Then just relax about your efforts, pop your dress on and let the natural style of this fabric shine.
NZ DESIGNED and MADE there is something lovely about knowing you've bought a dress that's designed and made in New Zealand. ToniMarie is a super cool Bay of Plenty woman with an edgy style that we've been lucky to include in our Redwood Clothing range. She's joined by her team of talented sewers based around NZ too. The quality of the finishing in Style X Lab clothing pieces is distinctive and worth appreciating. It's our preference that we have wardrobes of quality rather than too much of imported quantity. We aim to creatively mix and match pieces from our brands together so you can make the most of each one.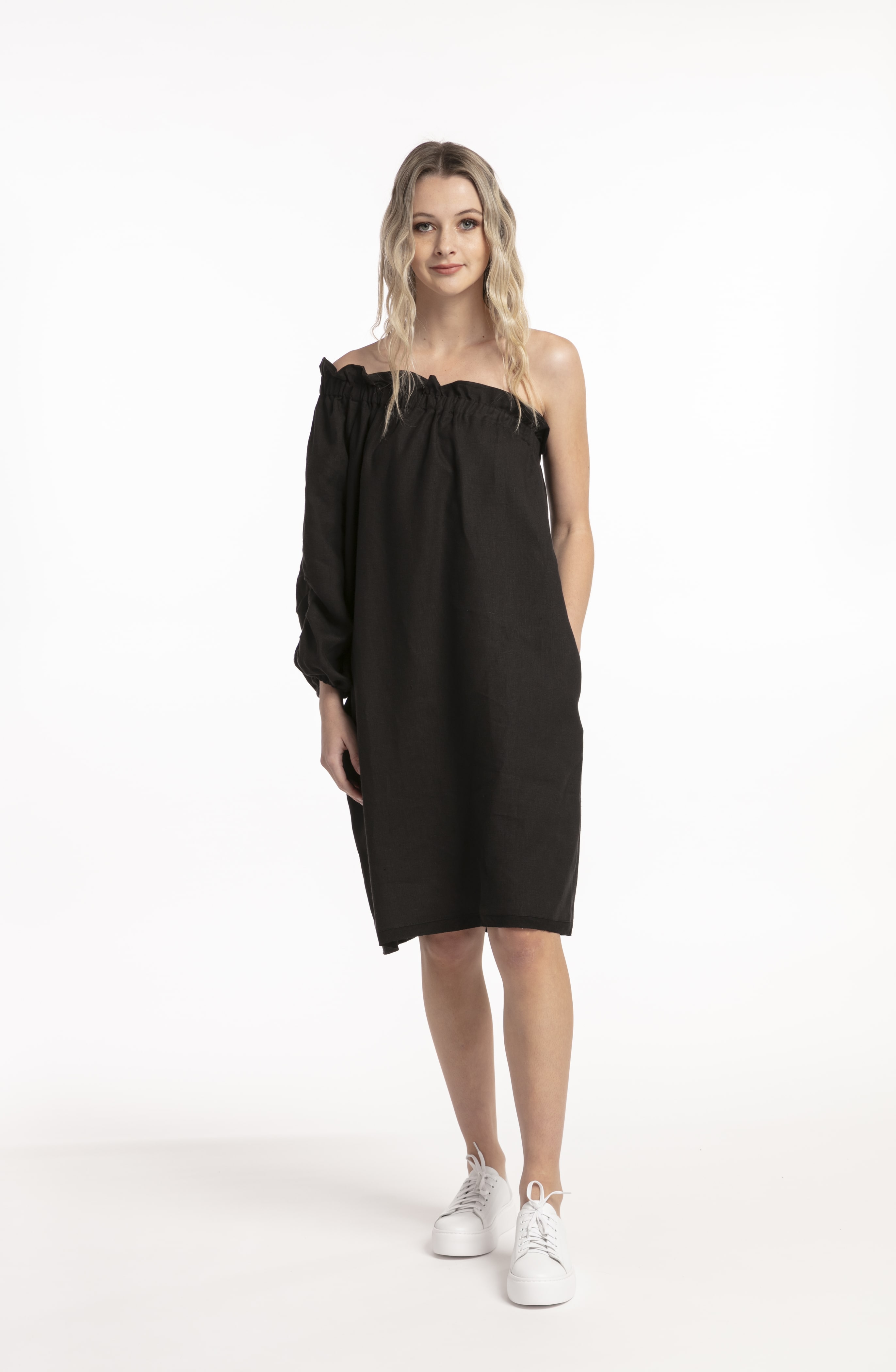 MADE LONGER FOR YOU – FEEL THE DIFFERENCE As more Redwood pieces end up in my wardrobe it's becoming obvious that so many things have never fitted properly, especially in the arm length. Once you experience the difference of clothing that's longer, you begin to understand what you've been missing out on and don't ever want to go back. Everything is more comfortable and looks right. There's no tugging and pulling your clothes up or down and around anymore. This dress has a longer sleeve and a longer hem. The hem sits quite long on me as I'm only 176cm tall but the sleeve is perfect! For women taller than me the length is just on the knee and there is plenty of hem to let it down further if you need to. We would suggest you do this as soon as you buy it so the linen fades evenly.
STYLE XLAB FABRICS ARE A SIGNATURE OF THIS BRAND Shopping with quality in mind rather than quantity is better for our world. This NZ brand is definitely about that and is as much about the design as the quality fabrics. ToniMarie is a connoisseur of beautiful fabrics and never skimps. She always refers to her clothes as 'pieces' because they are collectible and can be worn many different ways. For this dress she has used a quality European linen that is not a budget fabric but it has a look and quality that will mean you love your dress for longer.