Embrace the Wide Leg Trend with Redwood Clothing
17th Nov 2023
In the ever-evolving world of fashion, trends come and go, but some styles stand the test of time. One such trend that has made a triumphant comeback is the wide leg pants craze. From runways to street style, fashionistas are rejoicing in the comfort and chicness that wide leg pants bring to their daily style. Let's delve into the world of wide leg pants, with a spotlight on the fabulous collection at Redwood Clothing.
Really flattering on taller women:
This is good news right. Being taller means you can really do this well and you'll find your wide leg pants are a godsend. The elongating effect of these pants adds a touch of grace and sophistication to your silhouette as you move. Redwood Clothing's wide leg pants, especially our core fave, the Helena pant, are designed with the taller woman in mind. The perfectly tailored fit, subtle flattering leg shape and crisp fabric create a stunning visual effect, making you look effortlessly chic. A very clever stylist recently said she would be picking these out of our racks above anything else.
Fabric Elegance:
Redwood Clothing takes the wide leg trend to new heights with its thoughtfully curated collection of wide leg pants from various brands. Crafted from high-quality fabrics and made in New Zealand, our pants not only offer a luxurious feel but also elevate your style game. From breathable linens and cottons, to sophisticated drapey cotton lends or wool, Redwood Clothing ensures that each piece is a testament to both comfort and elegance.
Styling with Tops:
One of the perks of wide leg pants is their versatility. Pairing them with the right tops can transform your look from casual to sophisticated in an instant. For a laid-back vibe, opt for a tucked-in graphic tee or a casual blouse. To take things up a notch, throw on a fitted sweater or a tailored shirt. Redwood Clothing's wide leg pants, with their timeless design, allow you to experiment with various tops to suit any occasion.
The Redwood Clothing Helena Pant - Our Favourite Style Choice:
At the forefront of Redwood Clothing's wide leg collection is the Helena pant in 3 great cotton colours. This fabric has a wonderful feel and hold to it. For very tall women, the leg length is perfect and you won't see your socks if you cross your legs! If you find them a little too long, the cuff folds over beautifully and stays there, adding to the style. These pants are a wardrobe essential that effortlessly transitions from day to night. This classic piece has fast become a #1 style for those who appreciate the perfect blend of style and comfort. The fit is generous and the cotton fabric has a slight stretch - it eases and wont hug in the wrong places. These pants have an elastic waistband and comfortable deep pockets for longer arms too. There's a subtle flare in the leg that creates a stunning silhouette too. Black is your ultimate basic, Olive is a stylist favourite choice and the Dusky Pink is a pretty and unique alternative.
Shoes can lift your look: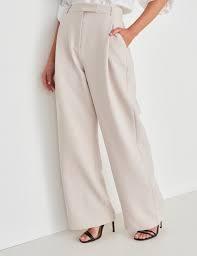 When it comes to wide leg pants some styles are better than others and it's all about balancing your top with your shoes. These pants look better with a little heel or platform in your shoes. A look we love is pairing with on-trend chunky sneakers or chunky loafers with a simple, especially in colour. We also recommend styling these pants up with elegant low or high heel shoes or ankle boots, a little singlet and a blazer or leather jacket. Because these pants sit out over your shoes, colour and details are important in your shoes. The added height not only complements the wide leg silhouette but also gives you an extra dose of confidence. And the best part, when you sit and relax, you will be comfortable.
Feel the difference of our styles - a little longer all over makes all the difference:
Many women think they need a bigger size when trying clothes on if they feel uncomfortable but often they just need the piece to be a little longer here and there. The extra length makes a huge difference to where it sits on your body. Every pant at Redwood Clothing has been altered in 3 key places. The length of the hip rise is longer so the waist band sits up on your waist and doesnt feel uncomfortable when you sit down. The leg length is longer so we no longer see your old socks! And one last thing, that is not often thought about....our pockets are placed a little lower and made a little deeper for longer arms and hands. You'll feel the difference right away.
Summer Breeze in Wide Leg Bliss: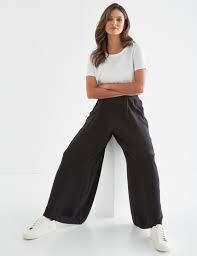 As the temperature rises and the days grow longer, the wide leg pants trend takes on a whole new level of appeal, especially with Redwood Clothing's summer-ready styles. The open, loose leg design of their wide leg pants, like the Helena pant, becomes a breath of fresh air in the scorching heat.
The airy silhouette not only keeps you cool but also adds an effortlessly chic vibe to your summer wardrobe. Redwood Clothing's dedication to using breathable fabrics ensures that you can embrace the wide leg trend without compromising on comfort during those warm summer days.
Pair the Helena pant with a light, flowy top for the perfect ensemble that exudes laid-back elegance. Whether you're strolling through a summer festival, enjoying a beachside brunch, or simply soaking up the sun in the park, these wide leg pants from Redwood Clothing are the epitome of summery style.
So, this season, let your fashion choices reflect the easygoing spirit of summer. Embrace the open, loose leg style of Redwood Clothing's wide leg pants and make a statement wherever the sunny days take you.